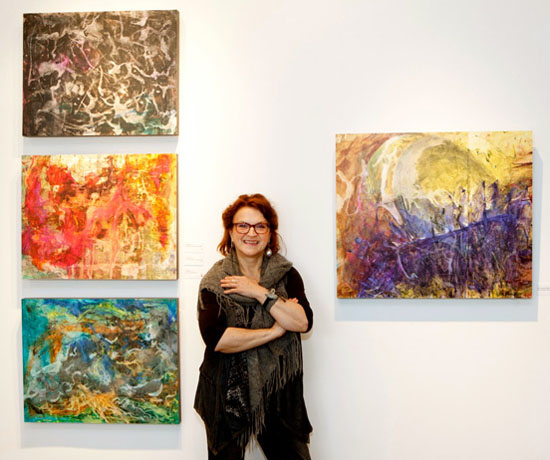 Last April 8th, artist Lucie Bertrand took down the 38 stunning works of her solo show "Point de départ" at Galerie 1040 in Plateau Mont-Royal, Montreal. Many of these have been sold and are already in their new locations, others yet will be picked up soon by their owners, while certain pieces have been destined by the artist for future projects and spaces.
With more than 400 visitors - among them 21 buyers - there's no doubt that the show was a success in every way. Lucie's work has clearly touched all, drawing viewers into her fluid, evocative world of ink and colour. The artist wishes to express heartfelt thanks to visitors, as well as to sponsors and collaborators such as the Centre local de développement Rivière du Nord, the Conseil de la culture des Laurentides, Traces Magazine, the Journal des Citoyens, and the many people who, in one way or another, have supported her creativity.
We invite you to watch a short video excerpt from the television show Le rendez-vous des Laurentiens, (TV Cogeco Laurentides), where Lucie Bertrand and Suzanne Beaucaire, coordinator of the exhibition and also a longtime friend of the artist, share their enthusiasm.

For those of you that couldn't make it to the exhibition, we've added a few pictures (taken by Lucien Lisabelle) to the gallery section of this website.
For more information, please contact Lucie Bertrand at

info@luciebertrand.com

.

Montreal - April 25th, 2013