The Artist's Journey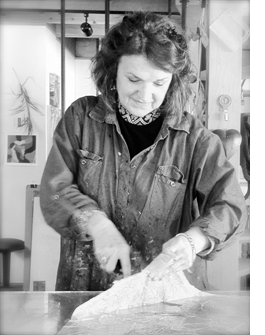 Lucie's search for expression first found an outlet in little notebooks, where as a young girl in Montréal she penned in private the words she couldn't say out loud and felt obliged to swallow. Later in her youth, after pursuits in sculpture and plastic arts, a chance encounter prompted her into an international career as a mime; for almost a decade, she spoke in decibels of silent gestures.
Natural evolution as an interpreter carried Lucie into the teachings of theatre. For close to thirty years she immersed herself in the initiation of young students to the creative process of the stage. One of her most satisfying and proudest acknowledgments was the Concordia University 2003 Distinguished Teaching Award for the Faculty of Fine Arts.
Confirmed by a Masters, Theatre Direction, Lucie's innate sense of space and talents at its organization and presentation opened the door gradually to the visual arts. Sculpture took the lead, much like the return of a body to its space, with her installations presented at various exhibition centres and museums. Eventually, surrounded by inspiring instructors, she experimented in painting with acrylics; the study of colour especially intrigued her.
However, what ultimately fired Lucie's true passion was her return to play with ink on frosty white paper. From these sources has originated Point de départ, her rediscoveries in the privacy of her studio of the written pictorials that echo and reflect those of her childhood.
It is with anxious pride that Lucie reveals her most recent works.